Longinus the Vampire - Horror Novel
He's Too Badass For Heaven And Too Good For Hell
Saint or sinner?
Knight or nightmare?
Only the gods - and you - can tell.
Love, honour, revenge, lust, greed and exciting fight scenes - all served with a healthy topping of horror, and a dark lair of depravity. "Longinus the Vampire" is a gripping and bloody horror adventure novel which will warm your blood and chill your soul. It's full of twists and turns, and you will never be certain what is going to happen next.
Be ye warned - abandon all hope, ye who enter here.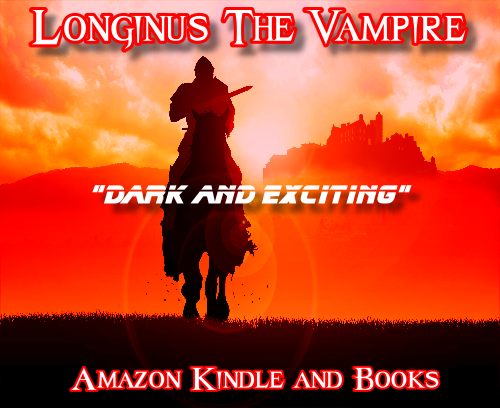 The Story...
The Revenant was created to destroy Lilith's enemies and lead her vanguard at the battle of Armagedon. Unfortunately, there was one very serious flaw in his unholy perfection: a much higher power gave him a conscience.
Not only must he battle against the terrifying creatures of the night, he must also fight to retain the last vestiges of his humanity and honour; otherwise, the beast inside him will take over completely.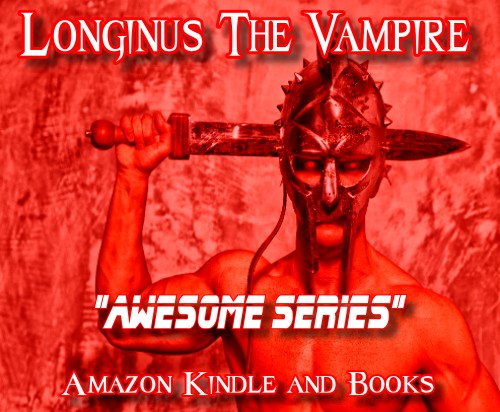 The Past
He is a courageous and honourable Roman centurion, but one day he is given the ignominious task of crucifying some Jews. He feels pity for one prisoner and ends his suffering with his spear. But that man is the Messiah. Longinus is damned for eternity and carries the powerful Spear of Destiny. As a "reward" for his unholy action, he is turned by Lilith, the Queen of the Night. She makes him her Revenant and forces him to destroy her enemies and innocent humans. But he rebels against her and escapes her power. He wanders the earth for centuries and fights in the wars of men. Then he meets a mysterious female vampire, and they live together in contentment and solitude.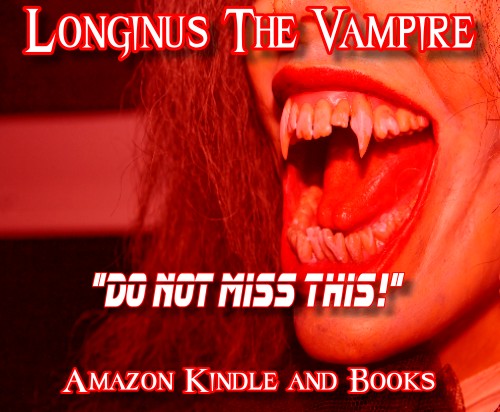 The Present
Now the vampire lord of New York has tortured and killed his soul mate.
Now he shall unleash the power of the spear and the beast inside him again.
Now he will bring down Cervenka's vampire kingdom in an sea of blood and fire.
But Lilith is watching and waiting to reclaim what is rightfully hers...
There is no redemption for the damned.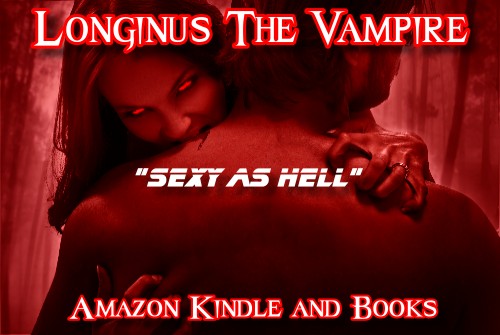 A Story Thousands of Years In The Making
The story is told through through two timelines.
The past recounts his creation in Judea and follows his trials and adventures in ancient Alexandria, the Fortress of Masada, Constantinople, Africa, and the Great Siege of Malta.
The present describes his bloody quest for revenge as he travels from Scotland to Romania, and then on to New York. As Longinus probes deeper into the coven's activities, he begins to realise the full horror, cruelty, and depravity of Cervenka's clandestine empire.
Finally, both stories converge in a thrilling finale as Longinus attempts to destroy the powerful Lord Cervenka and his vast coven.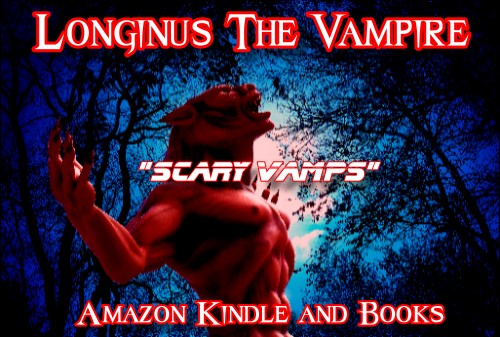 ***Some Customer Reviews from Amazon US***
5 Stars: "Highly, HIGHLY Recommend!"
"I love this! Exciting, gripping and Old World Vampires in the 21st Century!
I could barely peal myself away from this story to write this review!
Do NOT miss THIS!"
5 Stars: "Really good vampire story"
"Author gives his protagonist a moral sense, not necessarily a normal one, but sufficient for the rest of the story."
5 Stars: "Loved it"
"Fast paced page turner with interesting characters that you can instantly root for. I will definitely be getting the other books in the series"
5 Stars: "Outstanding"
"I have read a lot of vampire books in the last six months
and this is one of the best. Drama throughout the whole book. So glad I found
this author. Bad ass."
5 Stars: "Fantastic read!!"
"This is great book. Riveting, great characters and a new twist on vampire mythos."
5 Stars: "Truly dark"
"Excellent, well written book! Not many reach vampire royalty to stand with the
likes of Ann Rice but this author has achieved it! Dark and complicated, twisting
the plot. Loved it!"
5 Stars: "Great Adventure"
"I just finished book 3. All three were excellent, Vampires, gods, demons. What's not to like?"
5 Stars: "What a ride!"
"A tale as captivating as Ann Rice's "Interview With a Vampire" or as visceral as
Brian Lumley's "Necrposcope" series. Alan Kinross tells a story bringing to life
both the horror and joy of a truallly tragic figure thrust into a un-life of
damnation who seeks redemption."
5 Stars: "Great fast read"
"Longinus is a great fast read telling the story of Longinus the Centurion who heads Christ death detail and what happened to him. Can't wait to start the next book."
5 Stars: "Action"
"History, mythology & more combine in an action filled read! Longinus is a figure of great depth. All in all this book is a hit!"
5 Stars: "Scary book"
"Lots of violence, action and intrigue. An interesting take on the centurion and spear of Destiny. Nice review of some historical battles."
5 Stars: "Interesting Story"
"Fast paced, good story."
5 Stars: "Real Raw Masculine Vampires"
"These isn't Interview with the Vampire or the Twilight series, but real badass
vampires that kill, rape, plunder, and ravage. There's a vampire mob boss that
makes Don Corleone seem like a pussycat, there's a killer of vampires who
happens to be a vampire himself, and only feeds from vampire blood, there's
discussion of ancient Rome, Judea, Egypt, and even the demon Lilith. If you're
easily offended, don't read this book, but if you like splatterpunk and real
raw horror, then you will enjoy it. It's a real page turner, I finished it in days."
5 Stars: "...the story feels so unique and fantastic that it I wish I could give it a higher rating."
5 Stars: "This book pulls you in and keeps you there throughout the whole
read. Characters are developed early and the story line is clean and easy to
follow. Would definitely recommend it to a fellow reader."
5 Stars: "Solid Vampire Fiction!"
"Part of a series, the first of the trilogy is not for the squeamish or narrow minded."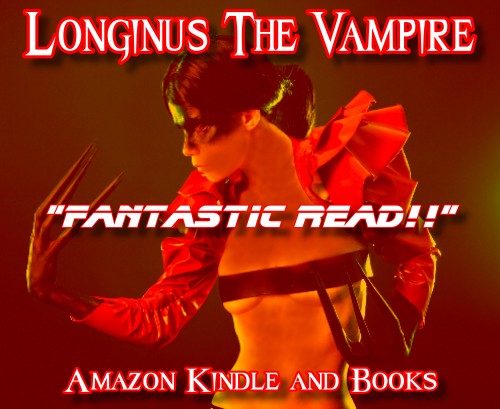 5 Stars: "Excellent!"
5 Stars: "I am on the 3rd book and enjoying it as much as the first 2."
5 Stars: "What a great vampire story!"
5 Stars: "Thrilling, Fun, and Different"
5 Stars: "Very captivating book"
5 Stars: "I couldn't put this book down!"
5 Stars: "Scary Vamps, Very Interesting Storyline"

5 Stars: "I was very intrigued with the characters"

5 Stars: "Entertaining and oft times gruesome tale of a heroic vampire's journey!"
5 Stars: "A New Hope for the Vampire Genre"
5 Stars: "A story you can sink your teeth into..."
5 Stars: "A vampire movie for the mind"
4 Stars: "A riveting, spine chilling, & bloody tale"
5 Stars: "A commanding and robust read!"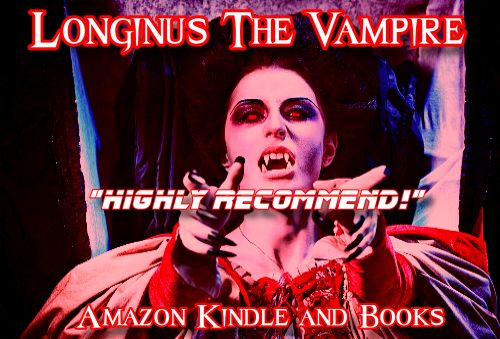 ***Some Customer Reviews from Amazon UK***
5 Stars: "Great Book, Not for twilight fans!"
"Vampires are back and deadly as ever! Horrifying and bloodthirsty, the author takes us into a world of the night walkers. A far cry from young adult sparkly vampires, here they're back to their original wicked selves. Having grown up reading the classics I appreciated this. The story is packed with twists and turns, well researched and written back stories but not for kids. So if you like your vampires in the horror section, this is for you. Looking forward to reading more from."
5 Stars: "I would heartily recommend this book, so good to read something different from the norm. Exciting, sexy and I want to know what Longche does next."
5 Stars: "Such a great read. I really enjoyed this book. It was interesting, exciting and the ending caught me completely by surprise. I would definitely recommend this."
5 Stars: "Dark and exciting"
5 Stars: "A book to get your teeth into!"
5 Stars: "This book would make a great movie"
5 Stars: "Absolutely loved this book!"
5 Stars: "Highly enjoyable novel!"
5 Stars: "Great read"
5 Stars: "Fantastic story that ticks all the boxes"
5 Stars: Great Read For Holidays
***Goodreads***
"Love and Revenge never die.
Truly dark - violence, action, intrigue, and lots of blood. Longinus is the dark hero, a real badass vampire out for revenge. I found this story captivating, exciting, raw, and impossible to put down.
The adventure is not over and I am on to book two in the series - Longinus The Vampire: Redemption."
"Good and believable characters, good story, nicely described action. Overall, I enjoyed reading the book."
YOU DON'T MESS WITH WHAT DOES NOT BELONG TO YOU
"Hello, this was a heck of a story. Real VAMPIRES! Also, a great story about not getting too big for your britches.
Thanks."
"From start to finish this book was a winner. Kinross throws out the stereotypical vampire image that plagues our society and inserted a darker, lustier image."
"Alan Kinross has brought vampires back to the dark side in Longinus The Vampire. It is dark, suspenseful, and will keep you on the edge of your seat until the end."
"At long last a vampire book with a bit of a bite! No sparkles but blood, lust and gore. Not for the faint hearted."
"Vampire story for adult audience. So don't expect vanilla...ice-cream. I looking forward to the film version."
"Bringing vampires back to the dark side in a phenomenal way! Great job!!"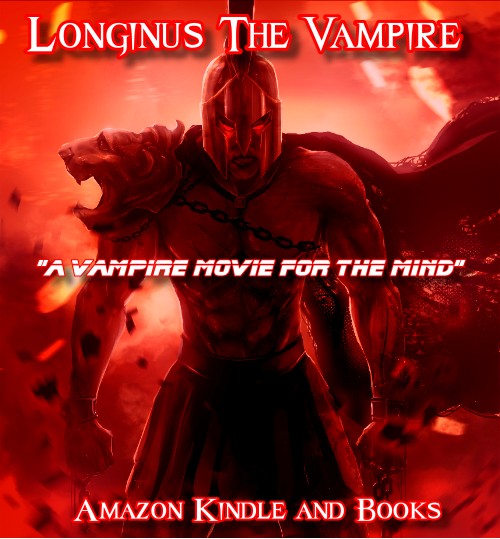 READ THE FIRST TWO CHAPTERS FOR FREE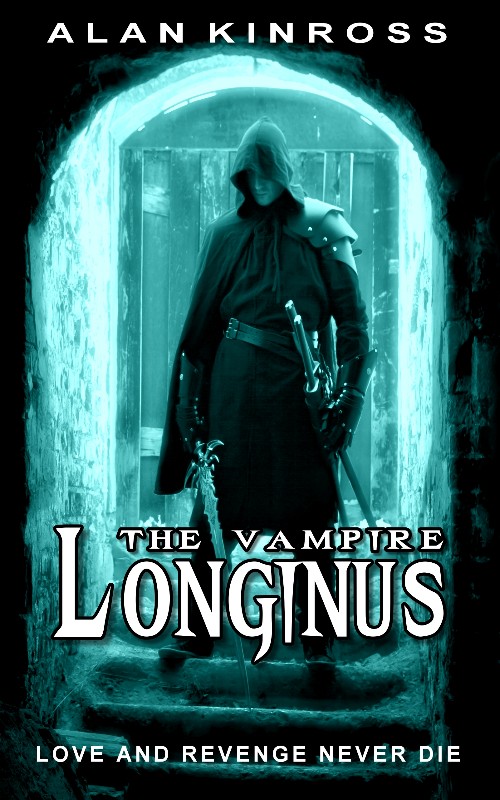 READ OR DOWNLOAD THE FIRST TWO CHAPTERS FOR FREE AT AMAZON KINDLE EBOOKS BY CLICKING THE LINK BELOW.
CLICK HERE TO READ THE FIRST TWO CHAPTERS ON AMAZON
AVAILABLE FOR FREE ON KINDLE OWNERS LENDING LIBRARY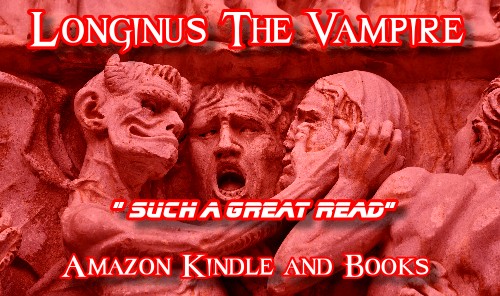 WARNING: Graphic Scenes Of Sex, Horror, Violence, Depravity And Retribution
The Longinus the Vampire horror novels are very dark, violent, sexual and terrifying. These vampire HORROR books are not recommended for the prudish, squeamish or faint hearted. The vampire series is suitable only for humans who enjoy reading tales of gods, demons, horror, dark fantasy, urban fantasy, the paranormal, the supernatural and revisionist historical fiction.
Gird your loins, mortal, and enter of your own free will.
You may never return....