The Dark And Dangerous World Of Longinus The Vampire
An Epic Novel Of Vampiric Revenge by Alan Kinross
Love, honour, revenge, steamy sex, adventure, and exciting fight scenes - all served with a healthy topping of horror and a dark lair of sexual depravity.
The Revenant was created to destroy Lilith's enemies and lead her vanguard at the battle of Armagedon. Unfortunately, there was one, very serious flaw in his unholy perfection - a much higher power - gave him a conscience.
Not only must he battle against the terrifying creatures of the night - he must also fight to retain the last vestiges of his humanity and honour - otherwise the beast inside him will take over completely.
The Past
He was the centurion who pierced the body of Christ with his spear.
He was damned for eternity and carried The Spear of Destiny.
He was seduced and turned by Lilith, The Queen of the Night.
She made him her Revenant - a vampire of immense power.
She used him to destroy her enemies.
Firstly, vampire heretics who refused to worship her.
Then, innocent women and children.
He rebelled and escaped her power.
For centuries, he wandered the earth and fought in the wars of men.
He met his soul mate, the beautiful vampire Carmilla.
They lived together in peace and solitude.
The Present
Now, Cervenka, the vampire Lord of New York has tortured and killed his soul mate.
Now, he shall unleash the power of the spear and the beast inside him again.
Now, he will bring down Cervenka's vampire kingdom in an sea of blood and fire.
But Lilith is watching and waiting to reclaim what is rightfully hers...
There is no redemption for the damned.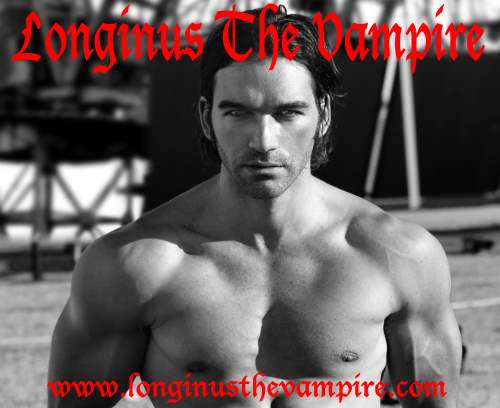 The Story
The story is told through through two timelines.
The past recounts his creation in Judea and follows his trials and adventures in ancient Alexandria, The Fortess of Masada, Constantinople, Africa, and The Great Siege of Malta.
The present describes his bloody quest for revenge as he travels from Scotland to Romania, and then on to New York. As Longinus probes deeper and deeper into the coven's criminal and legitimate interests, he begins to realise the full horror, cruelty, and sexual depravity of Cervenka's clandestine empire.
Finally, both stories converge in an apocalyptic finale as Longinus uses his fangs, claws, and the power of the spear, in an heroic attempt to destroy the powerful Lord Cervenka and his vast coven.
WARNING
This novel contains scenes of vampires, demons, horror, gore, love, violence, sex, and chivalry - which some readers may find too exciting.
***Some Customer Reviews from Amazon US***
5.0 out of 5 stars "Scary Vamps, Very Interesting Storyline"
By Maria Rasmussen "kittybaby13"
"The vamps in this book are scary, sadistic and described very well. The things they do to humans and each other are horrible and made me cringe a few times. The book is pretty well written, maybe a little slow paced at times, but good for the most part. I didn't want to put it down until I was finished and that's usually my main motivation for giving 5 stars.
The storyline is really cool - Lilith created vampires and then turned the Roman soldier who speared Jesus on the cross into a badass vampire killer who was also a vamp, but he ended up having a conscious and rebelled against her. There's a lot of back and forth between the modern time period of the story's setting and Longinus' flashback to how he was created.
The fight scenes and characterizations are very detailed so it's easy to imagine most of the story unfolding. There's a little bit of romance and a lot of sex, mostly of the rape variety. It's not a pleasant story, but it could make a great supernatural action movie where you really hate the bad guys and the good guy is totally bad ass."
5.0 out of 5 stars "Different"
By Crazy reader
"I must say I really enjoyed this book. It is very different than most vampire books. A little gory n rough but not to make you turn away from the book. I was very intrigued with the characters."
5.0 out of 5 stars "Entertaining and oft times gruesome tale of a heroic vampire's journey!"
By Debra Bean
"Longinus is a vampire with special skills given to him by Lilith, which make him the most dangerous of all vampires. But, he still struggles with his former human emotions. This struggle is described in wonderful detail by Mr. Kinross. This book is definitely not for teenage girls or romance buffs! It's a delicious tale of jealously, lust, avarice, gore and sexual depravity among vampires! A definite read for "humans" who crave vampire lore."
5.0 out of 5 stars "A New Hope for the Vampire Genre"
By Stephanie Wesley
"After my second read of this book, I decided to write a review. While it is Mr. Kinross' freshman novel, I found "Longinus the Vampire" intriguing, exciting, definitely a hard-to-put-down read, and...sexy as hell! After all, what's sexier than a vampire with a conscience that shifts into hero-mode when people are in trouble? One of my several favorite quotes from the novel is as follows: "The moonlight covered the tombstones with an ethereal glow, and the statues above the tombs stood like silent guards waiting for something to happen'.
Longinus is not a "typical" vampire...he has a predestined path that he must follow. Mr. Kinross has written an imaginative novel with a new twist on the character of a vampire. It allowed my imagination to soar taking me into a world of darkness and depravity, but with the hope of a light at the end of the tunnel."
5.0 out of 5 stars "A story you can sink your teeth into..."
By Lisa
"Many vampire stories follow a common thread. This story doesn't do that, which is refreshing. The suggestion of our history being revisionist is intriguing and imaginative.
I would consider this erotica and not recommended for children, but that warning is clearly stated so there should be no surprises. It's not so graphic as to be offensive either. In fact, it was an integral part of the story.
I read this book quickly...I couldn't put it down for too long before needing to go back to it. The ending completely took me by surprise (do not cheat and peek or you will regret it).
Can't wait for the next book!"
5.0 out of 5 stars "A vampire movie for the mind"
By Jessica
"Longinus The Vampire" pulled me into a dark world full of vampire lust and greed. The characters were well developed and the storyline flowed smoothly playing out like a movie in my mind. Longinus proved to be a fierce hero and a force to be reckoned with...
Superb imagery describing sexual encounters, vampires, gore, lust, love and action filled my mind...satisfied my brain and left me wanting more...
My only complaint is "it was over too soon."
4.0 out of 5 stars "Longinus The Vampire"
By Gabry Mehmet
"A riveting, spine chilling, & bloody tale of an underworld dominated by vampires. Longinus battles them & the demon within."
5.0 out of 5 stars "A commanding and robust read!"
By Tammura Adreon
"If you're a lover of books about vampires, throw out the ones you have read with a cute little bow tie because "Longinus the Vampire" delivers. Alan Kinross the author definitely knows how to write and feed to all of your five senses. So be ready for a "cold shower" bc one may have difficulty concentrating after reading due to the raw titillating story of a vampire seeking revenge.
This book will interest all kinds from the prude little housewife looking for something lustful and heroic to give some life inside her pristine cookie cutter house or the followers of vampires. He or she will appreciate the history & the truth to which the story tells of the beginning of the genre.
So don't hesitate to purchase this book. I promise one will not be unsatisfied and become a follower to Alan Kinross future novels."
Some Customer Reviews from Amazon UK
5 Stars: "Great book, with a great storyline"
By covgal72
This book is great value for money. It takes on a different angle of vampire story, rather than the usual Vlad the Impaler, or teen love story. I loved the little snippets of background on each character, and I can see lots of scope for a series of books. This book would make a great movie.
Five stars from me"
5 Stars: "Actual Vampires!"
By Siobhan Malloy
"Absolutely loved this book! There were no sparkles, no magic daylight rings... Just blood, guts, gore and sex - exactly what you want in a vampire book! Excellent :)"
5 Stars: "Longinus The Vampire"
By miss g duncan
"Highly enjoyable novel, it has many twists and turns filled with passion and war, unmissable reading,a must buy for all!"
5 Stars: "Great read"
By David
"Nice to see someone writing a vampire story that's not aimed at teenage girls! Great wee read, got through it in a weekend."
4.0 out of 5 stars: "Fantastic story that ticks all the boxes"
By Andrew Morrison
"I do a lot of traveling for work and I was looking for a book that was going to make the long train and plane journeys pass quicker. This book certainly delivered.
I'm a big fan of vampire stories (anne rice, justin cronin and what have you) and this is def up there with them. A bloody tale of revenge spanning across time. It kept me interested right till the very end.
I really loved this book and I would recommend it to any vampire fans (Twilight fans need not apply, this is a real vampire story)."
Five Stars: Great Read For Holidays
By SusieV
"I do not usually read vampire books but having read The Passage and Twelve I thought I would try this. I found the story kept your attention and must admit did not guess the ending. It's an easy read with possibly more sexual perversion than I would like but that did not spoil my enjoyment of it. Give it a go."
Other reviews
"Great book! Lots of action, horror and some weird vampire sex. Longinus makes most other vampire heros look like wimps. The massive fight scene in Central Park is very memorable. Also love it when he rescues the little girl from the vampire warehouse. And the final fight with the Vampire Lord is epic."
Rikers, Listal.
Some Of The Main Characters
Carmilla
The beautiful Carmilla was the soul mate of Longinus. Together, they tried to raise themselves above the feral nature of their kind and recapture some of the human emotions of their past lives.
Lilith - The Queen of The Night
Lilith, First Wife of Adam, Queen of the Night, Mother of Demons, and Stealer of Children. She is obsessed with two burning ambitions - to punish her wayward vampire children and destroy the world of men. Beautiful, sensuous, irresistible - and truly terrifying in her demonic, vampire form. She is waiting to exact a terrible revenge on Longinus for his betrayal.
Lord Branislav Cervenka And His Coven
Lord Cervenka rules New York with an iron fist and is utterly ruthless in his pursuit of expanding his territory. He is determined that that no man or vampire will stand in his way - and no one has - until now...
Vargas
Lord Cervenka's deputy and head of security. He is called "The Bull" because of his prodigious fighting ability. He is the second most powerful vampire in the coven and led the Hunter-Killer pack that killed Carmilla.
Fogel
The coven's lieutenant in charge of human trafficking and prostitution. He considers himself a master of scheming and intrigue and is always looking for ways to advance himself in the coven's hierachy. He also has a predilection for torturing handsome, young men in his "Playroom".
Slick
Young and arrogant, Slick is a member of the Hunter-Killer pack that killed Carmilla. Becoming a vampire did not decrease his sexual appetite for older women and there is nothing he likes more than "playing" with his food before sucking it dry.
Dvorak
The coven's historian and curator of Lord Cervenka's collection of manuscripts and occult artefacts. It is he who slowly pieces together the history of the mysterious vampire they have angered and his horrific, true identity. However, by then it is too late to stop the cataclysmic hurricane of destruction that is coming their way.
Watch The Exciting Longinus The Vampire Videos
If you want to watch individual videos rather than the Playlist, then please go to our "Videos Page".
Paperback Edition Available on Amazon Books
Read the first two Chapters for FREE at the Amazon book store by clicking the link below.
Click Here To Read The First Two Chapters At The Amazon Book Store
Also Available on Amazon Kindle eBooks
Read or download the first two Chapters for FREE at Amazon Kindle eBooks by clicking the link below.
Click Here To Read The First Two Chapters At Amazon Kindle eBooks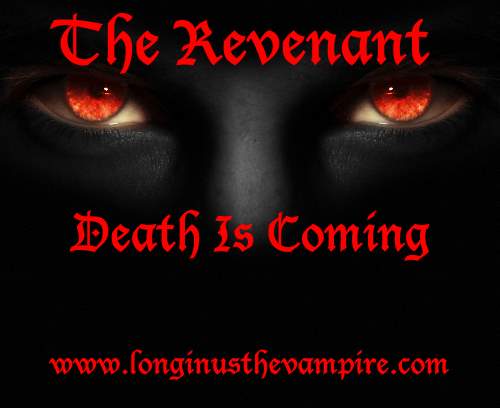 How to Read Kindle Books Without a Kindle
Amazon has free reading apps available for Windows, Mac, iPod Touch, iPad, iPhone, Android, Windows Phone 7 and BlackBerry. Just download and install the proper app on your device and, if you have an Amazon account, you can download and read Kindle books.
Favourite Vampire Films and TV Shows
If you like watching vampires on film and television, here is a list of some of our favourite vampire films and TV shows we have enjoyed over the years. You may have to search for some of the older ones. Of course, some of them are not "strictly" all about vampires, but in mood and style, they have come very close.
Dracula, Twilight, Vampire Horror, True Blood, The Vampire Diaries, Buffy the Vampire Slayer, Angel, 30 Days of Night, Blade, Underworld, Fright Night, Fright Night 11, Supernatural, Forever Knight, Being Human, The Gates, Dark Shadows, Moonlight, Blood Ties, Ultraviolet, Kindred The Embraced, Sanctuary, Port Charles, Vampires, and Nosferatu.